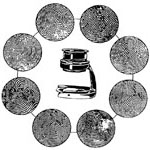 Week 1 was all about taking the first steps in a twenty week process to gain the knowledge of how to evaluate, compare, and identify friction ridge skin. This was accomplished by some independent study and one-on-one mentoring from one of our RS&A instructors. Throughout week 1, the students were constantly challenged through a series of lectures, practical exercises, and drills that have been specifically designed to increase each student's knowledge while beginning to build their confidence in the usefulness of the science, and their ability to use it properly.
Many different facets of friction skin examination were explored and discussed such as the history behind our science and the challenges associated with the science. A great deal of time was spent learning how to use all three "levels of detail" and apply ACE-V methodology as the basis for the examination process. Each student was taught the "language" of friction skin examination (the vocabulary) so that they can effectively communicate with each other, the instructors throughout the program and their peers once they return to their agencies. An in depth understanding of pattern recognition, "ridge flows" creases, focal points and other level one details were absorbed after hours of using them as part of the skill building exercises in class as well as various "homework" assignments to continue the learning process.
Each student now has a clear understanding of the principles underlying the science and as a result, they now have a practical, functional knowledge of how to examine friction skin in preparation for the remaining weeks of training.