TEST INFORMATION
Each test contains at least 3 question impressions, rolled known impressions of each section of the known tire, and physical photographs of each section of the known tire.
STEP 1 - COMPLETE YOUR PROFICIENCY TEST WITHIN THE TIME GIVEN
STEP 2 - ENTER YOUR RESULTS IN OUR ONLINE RESULTS ENTRY PORTAL
Each proficiency test participant will be issued a unique web code and password to access our easy answer submission portal. Once logged into the portal, you will be asked to complete a simple survey. This information will be used to create our Advanced Results Summary Report. When finished with the simple survey, you will then provide your test answers and comments. Test answers are entered using simple drop-down boxes which can be saved for a later submission or submitted to RS&A.
STEP 3 - MANUFACTURER'S REPORT PUBLISHED ONLINE
STEP 4 - INDIVIDUAL RESULTS WILL BE EMAILED TO THE POINT OF CONTACT
STEP 5 - SUMMARY RESULTS PUBLICATION WILL BE POSTED ONLINE
RS&A is committed to constantly improving and offering high quality forensic related products and services. Our commitment is especially important in the field of proficiency testing. We are keenly aware that the results of published Proficiency Testing Results can either be used properly, misused by naysayers of the impression evidence sciences, or sometimes even used as a tool for the defense bar to attack unsuspecting forensic identification specialists.
We believe the most prevalent problem that has existed for much too long is the lack of pertinent data to accompany the raw proficiency test results. Without knowing about the test participant's credentials, experience, and their agency's processes when completing purchased proficiency tests, the published test results are worse than having none at all. It is only through a review of the test results, in relation to the information about the participant and their agency, that the published results can become accurate and truly representative.
Therefore, before submitting your test answers, you will be required to complete a simple Online survey. The data we have asked you to provide, in conjunction with the other participants, will enable RS&A to provide the forensic identification industry what they have needed for so long.
Regardless of the results, we will know that the published data is not only accurate but truly meaningful.
ONLINE DOWNLOAD - $325.00
For those of you who prefer to save a few trees and a few bucks, you may now choose to receive your proficiency test via "Online Download". This option not only eliminates the use of costly photo paper and DVD, but it also eliminates shipping cost. Our cost saving allows us to pass cost savings on to you!

HOW IT WORKS: Purchase your download able proficiency test and we will send you an email on distribution day with login credentials and download instructions. Simply, login to our secure download portal where you will find a test instruction sheet PDF, known images, and latent images. You now have everything you need to complete your proficiency test. Each download image file will be provided in JPEG format.
HARD COPY PHOTO PRINTS - $350.00
The original images have been captured at 1000 ppi or higher, and all of the known impressions are captured at 500ppi. The image is printed using high quality industry leading printers which accurately renders a 1,000 ppi image. We are able to provide this extremely high level of quality due to our significant investment in the latest printer technology.
DIGITAL IMAGES ON DVD DISC - $350.00
Our digital images are a great option for the examiner who is completing their examinations on-screen. The images provided on DVD disc have been captured at 1000 ppi or higher. Each image is provided in a JPEG format. A professional photo editing software is highly recommended.
COMBO - HARD COPY AND DIGITAL DVD DISC - $375.00
Our digital images are a great option for the examiner who is completing their examinations on-screen. The images provided on DVD disc have been captured at 1000 ppi or higher. Each image is provided in a JPEG format. A professional photo editing software is highly recommended.

FLEXIBLE PAYMENT OPTIONS
RS&A understands the unique finance and budget requirements of State and Federal Agencies. We offer flexible payment options to help make your proficiency test purchases easier. If you have unique changes or special needs, contact us and we will work out a custom solution to your unique problem.

Payment options:
1. Credit card
2. Purchase order
3. Check by mail
4. International Bank Wire Transfer (DOWNLOAD RS&A BANK WIRE TRANSFER INFORMATION)
NOTE:
International Bank Wire Transfer fees range from $50 USD to $75 USD depending on the country. For all orders paid using a Bank Wire Transfer payment method, the client will be charged a flat $50 USD banking fee. This fee is charged to RS&A by the bank for processing the international payment. Once your order has been submitted, you will receive an order confirmation email and an additional email which will contain an updated invoice cost and all the banking information necessary to complete your bank wire transfer.
SHIPPING
United States = Free Shipping!
North American (Canada & Mexico) = $25.00 flat rate shipping

All Other Continents = $50.00 flat rate shipping
Shipping charges are applied during checkout.


Avoid all shipping charges by choosing an Online download option when available!
DOWNLOAD A TEST SAMPLE
This sample document is for test demonstrations purposes only.
This sample document has been compressed for easy and quick Online download.
Images contained in the sample document are not comparison quality images and do not accurately represent RS&A production test images.
Reports and report data contained in the sample document are for demonstration purposes only.
In this document you will find:
Instruction sheet.
Test images (latent & known).
Manufacturer report.
Individual report.
Advanced summary report.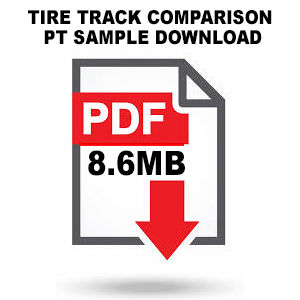 TEST CYCLES & DATES
Test Number:
23401
Test Cycle Status:
Open for Enrollment
Enrollment Deadline:
May 5, 2023
Projected Test Distribution:
May 29, 2023
Results Entry Deadline:
August 25, 2023
Manufacturer's Information Report:
Mid September
Individual Report:
Late September
Summary Report Publication:
Early October
PARTICIPANT LINKS